Eltwin in Poland
Congratulations to our customer Eltwin Group in Poland with their recent investment in a complete Wave Soldering line.
Solarnative
I'm happy to announce this recent SMT Renting win for a new German customer within the solar industry Solarnative GmbH. Together with our partner JUKI Automation Systems GmbH | Europe we have supplied a brand new state of the art SMT Line packaged in our flexible SMT Renting concept tailormade for Electronic Manufacturers.
MLB Electronics
Congratulations with their investment in a new 3D AOI System.
Kämpfe Elektronik GmbH.
Before year 2022 comes to an end we are very happy to announce this new deal for our new customer in Germany, the EMS Company Kämpfe Elektronik GmbH.
8devices
Congrats to our good customer 8devices in Lithuania on the recent investment in a new reflow oven from Vitronics Soltec. The oven is now installed and in production in their factory located in Vilnius, Lithuania.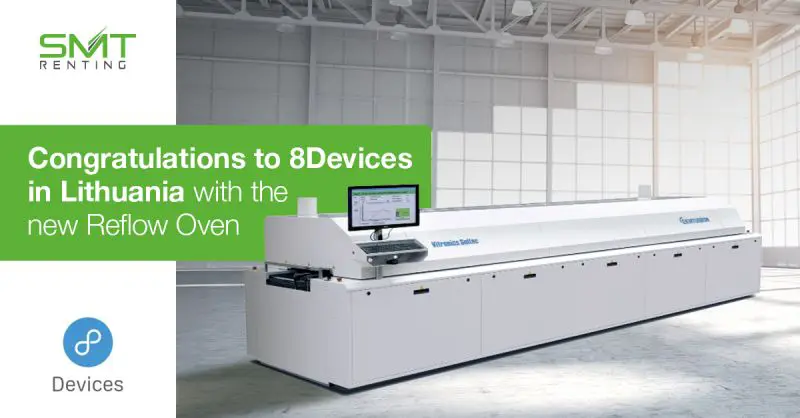 8devices
8devices also recently invested in a brand new SMT line, Xray and AOI inspection
SMTHOUSE and SMT Renting becomes part of the Swiss private equity fund CAT Growth AG.
With CAT Growth AG on board, we get the extra gears that SMT Renting need, to take our rental concept for production equipment tailored to electronic manufacturers… to the next level.
So in the future when you drive your car, use your phone or turn on the television, the electronics are produced on equipment rented from SMT Renting – that must be the goal.
Incap Slovakia
A recent deal with our good customer Incap and a true believer in the SMT Renting concept tailormade for Electronic Manufacturers.
Congratulations to Incap Slovakia with your new equipment that is expected to be installed at their manufacturing plant in Slovakia in February 2022.